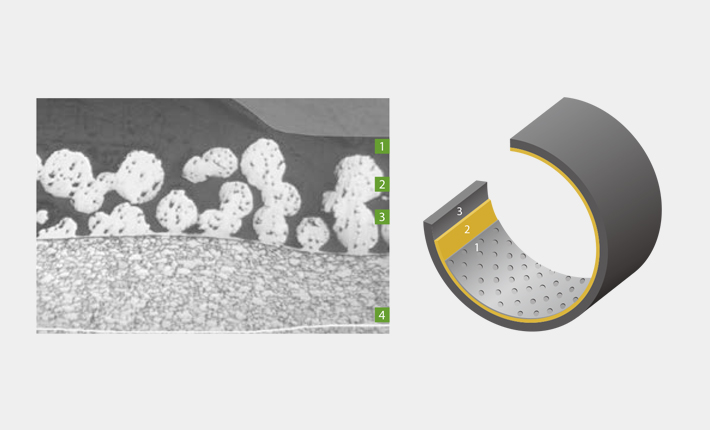 1. Self-lub. Layer POM 0.3-0.5mm. After rolling process completed, POM are filled in intersice of bronze layer, lubrication indents are stamped, which are full of oil grease, which will be removed and transferred on the mating surface, forms a physically lubricating film, which will reduced the firction coe. and protect the mating shaft.
2. Porous bronze layer; The layer provides bonded strength of self-lub. Layer.
3. Steel Backing The layer provides load & thermal conductivity
4. Copper / Tin layer.
EX Material Characteristics
Max. Load Capacity
Static Load
N/mm2
250
Dynamic Load
N/mm2
140
Max. Speed
Pre-Lubricated
m/s
2.0
Oil Grease Lubrication Continuous Operation
m/s
>2
Max. Pv Value
N/mm2 · m/s
2.8
Coefficient of Friction
μ
0.05~0.20
Operation Temperature Range
℃
-40~110
Thermal Conductivity
W(m · k-1)
42
Coefficient of Thermal Expansion
λST
11 · 10K-6
※ Initial pre-lubrication at assembly is necessary.